Our little ladies certainly love to dress up and be prissy. Easter and spring are perfect times for them to shine in all their finery-and the finery starts with their unmentionables.
I can remember, as a child, every Easter and Christmas getting a completely new outfit from the inside out, everything was new.
It seems this tradition is being carried on today because I sell more 'unmentionables' for little ladies at this time of year than any other time. . .
I thought today I would start a pre-Easter parade of unmentionables that are currently available.
Starting with the panties (short bloomers)-for Easter pure white, but these are also available in any color. I have a customer who buys these in assorted colors and her daughter wears them everyday under her dress for extra modesty.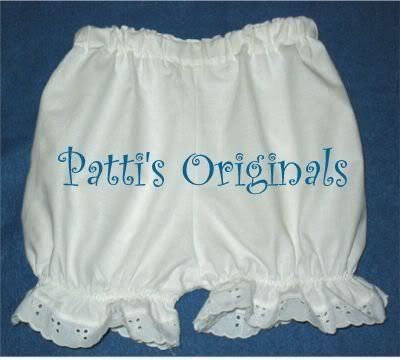 It is always warm down here for spring and Easter but in other parts of the country the weather is still cool, so longer bloomers would be more appropriate.
The next item is a sweet little camisole trimmed with lace.
The next layer will be the petticoat and I have a few from which to choose. This is an a-line slip trimmed with eyelet lace, soft and sweet.
Maybe a half-slip would be more to your little lady's liking.
This next slip is one of my favorites (maybe it is the cute model). A full petticoat with a yoke on the top and a full ruffle on the bottom.
Some dresses just call for a little bit more, and for those dresses, there is the petticoat dress. The great thing about this petticoat is that it can be worn as a dress or under a skirt, jumper or sundress to change the entire effect.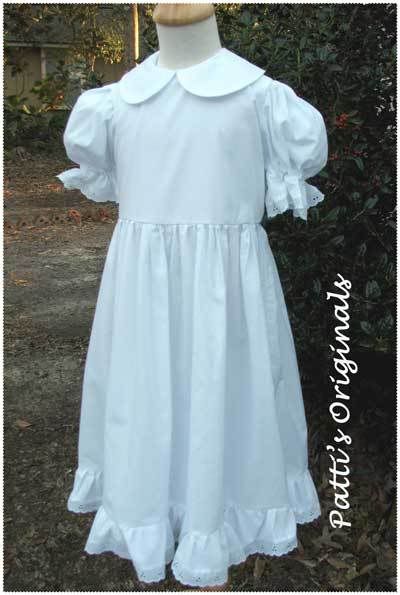 So when planning the ensembles for your little one's Easter parade, don't forget her unmentionables.
Most of the designs I blog about are custom creations-if you see something you like or I can help you with a custom creation please contact me
here.