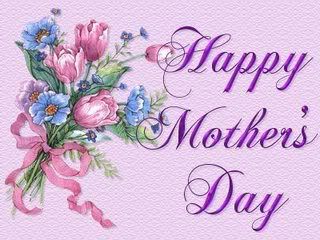 Mother's Day-a day we honor mothers, originated in the United States in 1907 when Ann Jarvis started a crusade to honor women. The idea quickly became popular and spread across the country.
Mother's Day is the most popular day to eat in a restaurant (this is why we never go out to eat on Mother's Day-we go a week later). Mother's Day is also
one of the most lucrative holidays celebrated in our country.
As I think about Mother's Day this year I am feeling nostalgic for my mom. My mom was left a widow with 3 small children in 1960. There weren't many opportunities open to a single woman in those days but she worked hard as a waitress to keep our family together. My mom went to be with the Lord in 1989 and I still miss her today. She would have loved my grandkids!! but I guess they get spoiled enough by the rest of us.
Mother's Day brings to mind the qualities of a godly mom-she is loving and kind. She cares for her family. She is patient and soft-spoken, to deal with the little hearts in her care. She loves her Lord and shares this love with her family. Mom is all about love.
Today is Mother's Day and I hope you will let your mom know how much you love her and how much you appreciate all she has done for you.