There are many special terms used in creating the perfect outfit, whether you are the seamstress or the customer. Using the correct vocabulary makes communication a lot easier.
First a few pointers for taking measurements:
o Bust-Around chest at the fullest part under the armpits
o Waist-Narrowest part around the center of the torso
o Hips-Fullest part around the seat
o Tea Length-Dress or skirt falling to mid-calf
Now some general terms for sewing:
o Selvage: firmly woven narrow border along lengthwise edges of fabric. When purchasing fabric the selvage ends are the 2 ends that do not ravel.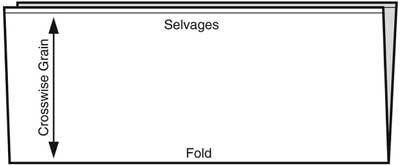 o Bias: Runs diagonally to the straight grain of the fabric. This is the stretchiest part on the fabric.
o Lengthwise grain: strong, stable threads that run parallel to selvage
o Crosswise grain: threads that run from selvage to selvage
o Grain: direction in which fabric threads run. Patterns will tell you to place on the straight grain, this is why it is important that fabric be straightened before you start.
o Grainline: arrow marking on pattern tissue that indicates straight grain
o Nap-Nap is the "fuzzy" part of a fabric that is usually directional in nature. Cordoroy and velvet are good examples of fabric which has a nap or a pile. If smoothed with the hand nap is typically shiny in one direction and not shiny in the other. When cutting out a pattern, care should be taken to keep fabric pieces going in the same direction nap-wise.
o Press cloth: plain piece of muslin or cotton fabric used to protect fabric from direct contact with hot iron
Hope these definitions are helpful to you!